Transportation to METU Campus
The A1 and A2 entrance gates of METU campus are 7 km away from the city center and they are nearby Eskişehir Highway. There are other entrance gates like A4, which is in the direction of 100. Yıl and A7, which is situated on the Bilkent way.
It is possible to reach METU campus by METU district buses, EGO buses, minibuses and taxi. The most convenient of them is EGO buses since their service is most easily accessible and available. More information is available here.
METU interactive map is here.

Accommodation at METU Campus

Accommodation can be provided for delegates who would wish to stay on METU campus during the conference, depending on the availability of rooms and on a 'first-come-first-serve' basis. Campus accommodation includes guest houses and dormitories (single room, double room, one bunk bed, two bunk beds; also with WC and shower, and without WC and shower). The prices will range from around 70 TL to 110 TL per night (12 to 20 Euros, prices subject to change according to daily exchange rates), depending on the guest house or dormitory room type.
Please inquire for availability and book your rooms as early as possible through us at: drslxd19@metu.edu.tr
For images and information:
http://yurtlar.metu.edu.tr/en/students-guest-house-2
http://yurtlar.metu.edu.tr/en/metu-development-foundation-student-guest-house
http://stm.metu.edu.tr/misafirhane-resimleri
http://stm.metu.edu.tr/asym-resimleri
Accommodation at Downtown Hotels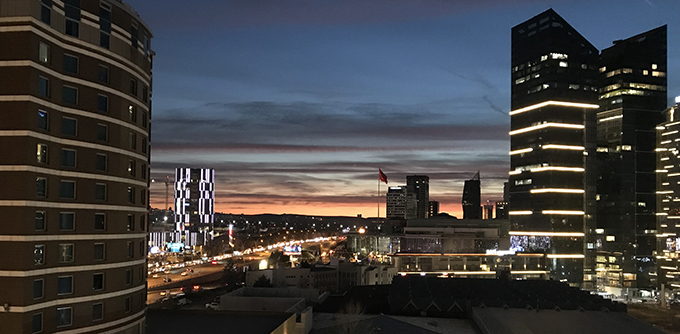 The conference has also obtained special prices from downtown hotels, all located close to each other at the commercial district of Söğütözü (shopping malls, leisure centres, restaurants and pubs are available at walking distance). The location is half way in between the historical and business centre of Ankara, and the METU campus. Travel to and from campus and these hotels is possible by bus, 'dolmuş' (which is a short blue minibus), and the metro (M2 line, with METU metro station being only two stops from Söğütözü metro station).
Please inquire the prices and book your rooms for all hotels indicated below, through us at: drslxd19@metu.edu.tr
Anadolu Hotels Downtown Ankara
Yaşam Caddesi, 1. Sokak No: 7/B
Söğütözü, Ankara
www.anadoluhotels.com/index.php/home-page/?lang=en

Mövenpick Hotel Ankara
Beştepe Mahallesi, No: 1
Söğütözü, Ankara
www.movenpick.com/en/europe/turkey/ankara/hotel-ankara/overview/

Wyndham Ankara
Yaşam Caddesi, 4. Sokak No: 4
Söğütözü, Ankara
www.wyndhamhotels.com/en-uk/wyndham/ankara-turkey/wyndham-ankara/overview